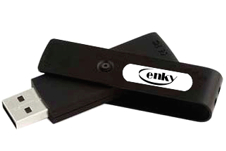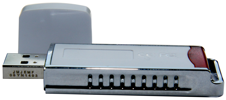 View flash screenshot
Hybrid dongle with 4 -16 gb memory
Ideal for mobile users to protect applications with a Zero-Footprint device
Smart card based security dongle, providing secured information storage, designed for software licensing, software copy protection and software piracy protection. Enky FL hardware is derived from Enky SL, the latest smart card based software protection dongle, attached with flash memory of the capacity from 4GB to 8GB. The software protection key part of it is the same as Enky SL dongle, high performance smart card based software protection dongle.
Software vendors can encrypt the application, store the program to flash memory and then deliver it to end users. At the customer site, the application is protected all the time. Especially, Enky FL dongle is the ideal choice for zero-footprint applications. His high-speed flash memory allows application being executed onboard.
Enky SL software protection dongle hardware is based on smart card chip. The hardware design provides complete protection mechanism and high level of integration, which is remarkable comparing to usual MCU chips. The smart card chip has the capability of resisting electron detection attack (SPA and DPA) and physical attack (SiShell).
The driverless technique is applied to Enky SL to make the device driverless in all operating systems. Users can easily use and maintain the device. A big memory space 8 KB read/write data and 8KB for read only is available. The smart card chip and its manufacturer have passed CC EAL5+ and is in compliance with FIPS 140. Enky FL Dongle can be used to store the software as well as protect it at the same time!
Enky FL comes with FREE Windows disk management software,
following are the features:
High-speed Storage
Enky FL Drive is high-speed USB 2.0 device with the maximum write speed over 10Mb/s; the maximum read speed over 20Mb/s.
High Capacity
The maximum capacity of flash drive chip supports 16GB, and memory chips are of high quality MLC or SLC flash drive memory chips, to ensure data storage security.
Multi-options for Partition
Enky FL Drive is customizable for a verity of partition schemes (Security Partition, Public Partition, Hidden Partition, and CD-ROM). It enables developers to choose the most feasible for the unique demand of software product and determines the size of partition freely.
Password Protection
Only user with valid password can access the protection zone. Even if the Enky FL Drive is lost, data is still under protection (Windows systems only).
No Interference
The dongle and the Flash drive works independently from each other, without interference. Users may need to develop encryption functions respectively according to their requirements.
Two-color LED Display
It is clear to know the working status of the dongle and the flash drive respectively.
Enky FL Technical Specification

Flash Memory Cap

.

up to 8 GB (optional 16 GB)

Speed

>18MHz/sec

Chip Type

NXP Smart Card Chip, 16-bit

CPU Frequency

18MHZ

Security level

CC EAL4+

Memory Type

EEPROM

Memory Size

16 K Bytes

Max. Write Cycle

>1000,000

Data Retention

10 Years

USB Spec.

USB 2.0, low speed

Driver

HID (Driverless, default)

Operating temperature

0-70°C

Operating Voltage

5V

Max. Current

1000 mA

Alg.

AES 128

Unique Hardware ID

64 Bits

License Module counts

255

Operating System

Windows2000/XP/Vista/7/8/10, Server 2003/2008, Linux, MAC

Abundant API's
Delphi, VS, VC, C#, Java, VB, C, C++, DLL, .Net, AutoCAD...
The Key Features/Parameters of Enky FL Dongle:
1. Dongle with high speed flash memory up to 8GB in one device
2. The accessing speed is more than 18MB/s
3. High performance smart card device, driverless and can be used as a hardware base for zero-footprint applications.
4. Dongle with Read-only Data Segment (8K) and Read-Write Data Segment (8K)
5. High performance smart card device
6. 255 "License Modules", which support the following licensing types:
Trial licensing based upon number of executions
Time-based lease/trial licensing based upon a fixed, absolute expiration date
Time-based trial licensing based upon an expiration date
computed relative to first execution
7. The "License Module" can be updated using "Activation Code" or "License Update Package "; Data Segment can be updated using "Data Update Package". "Activation Code", "License Update Package ", and "Data Update Package" can be used only once and for only a single specified device
4. Time-based license can be used on NON-RTC devices;
5. Embedded with 128 bit AES algorithm, which could be used for device authentication or data en/decryption
6. Supporting "Communication Encryption" between FL Device and Host computer
7. Each device has a Global Unique Serial Number(GUSN)
8. Device can run under HID (Driverless) modes
9. Compliant with CE and FCC standards