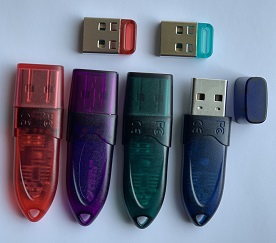 View editor screenshot
Enky AL driverless dongle with 32-bit smart card chip
The Enky AL dongle is a high performance smart-card based software protection dongle with on-board 3DES algorithm. This high strength device is easy to integrate and help developers make comprehensive protection strategy. It has a built-in 20KB data storage area, which is composed of mass storage area and 64 controllable data pages. Additionally, each page contains five useful properties: Enable, Read Only, Access PIN, 3DES Key Encryption and Max Access Number.
These functions can help developer flexible implement complex protection strategy, not only just verify few data in a same storage area. Various forms of software licensing can be performed with this dongle.
Shell encryption tools for 32- or 64-bit programs are optionally available. With this tools, executable programs can be encrypted within a very short time without having to intervene in the source code.
Features
Built-in 32 bit smart card chip which can prevent hardware copy, brute force intrusion
Driverless, Plug and Play
Support USB 2,0 high speed, USB 3.0
Unique Hardware Serial Number
20K Mass Storage, High Performance and Diversified Data Storage
64 Page Data Area with encryption protect and access control
Usage control and model control enables setting various software security strategy
Remote Upgrade and Authorization
Optionally available: High Level Shell Encryption for 32 / 64bit App.
Hierarchical Access Control
On-board Encryption Algorithm
Support API / samples various programming languages C, C++, C#, Delphi, Java, .Net, VB, Python, DLL and more.
Standard and optional MINI case, different colors like blue, red, green, purple
Low cost with high efficiency
Support Windows XP/7/10/Server, Linux, MAC
Enky AL Technical Specifications:
Security
Unique 32-bit smart card chip
Yes
Secure Communication Channel
Yes
3DES Encryption
Yes
Memory
Mass Storage Protected Read / Write
4 KB
64 Page a 256 Bytes
16 KB
Data Retention
At Least 10 Years
Write Cycles (EEPROM / Flash)
At Least 100,000
Max. licensable modules (Features) per key - Driverless Configuration
64
Physical Specifications
Default Color
Blue, optional Red/Green/Purple
Case Material
ABS
Operating Temperature
0˚C ~ 70˚C
Humidity Rating
0 ~ 90%
Working Power
100mw
Dimensions L x W x H (in mm)
55mm*16.6mm*7mm
Weight (in grams)
7g